View Menu Configuration, Customization and Enhancements
There are several improvements and new capabilities to customize, configure and use the list of Views at the top of the Pipeline Review application.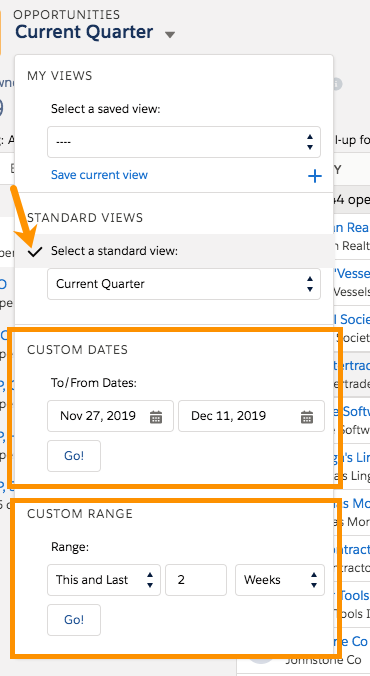 1) New Layout
The View menu has a new layout to accomodate the new features. There are four sections to the menu, with individual selectors within each section. The Checkbox will always show you what is selected, and the basic functionality remains the same.
2) Customize and Configure the Standard Views
A new custom metadata type (Akoonu Standard Views) allows administrators to configure the Standard Views shown in the View menu. Adminstrators can activate/deactivate Standard View items, re-order the views, and create their own Standard Views for their users to use based on either Custom Dates or a Relative Date Range.
For example, one could add a new Standard View called "The Last Fortnight" that specifies the time period of "This and Last 14 Days", or a view called "Spring 2020" that specifies the date range of "March 19, 2020 to June 20, 2020″. See the documentation for setup details.
3) Custom Dates
Users can now specify their own Custom Dates to use in the application view. These custom date ranges can be saved in Saved Views just like Standard View date ranges.
4) Relative Ranges
Users can also specify their own Relative Date range for the view. These ranges can be either forward looking or backwards looking from the current date. Users may specify a number of Days, Weeks, Months, Quarters or Years. Note that the Months, Quarters and Years are fiscal periods, and are therefore be based on any existing custom fiscal year configuration.
Date Range Details
In the Header area, there is now a hover bubble to help users by detailing the specific date range for the view. This is helpful to provide clarity about which specific dates are being queried for such periods as "Next Fiscal Month", "Last 2 Weeks", etc.
Default Group By Option
Administrators can now set the default Group By Option used in the Table View. Out of the box, this is set to Forecast Category. Administrators can update this default through the Custom Metadata configuration for the Group By Options. Note, that if you install this version as an upgrade, you will have to manually add this new field to the Custom Metadata Type page layout.
Custom Change Period – The change period can now be set using a relative date range (i.e. "Last 10 Days", "Last 2 Weeks" or "Last 3 Fiscal Quarters"). This is in addition to the standard ranges, and the custom "Since Date…" options.
Pipeline Health View – The chart legend has been redesigned to more clearly depict what the shading represents. The deal "bubbles" are shaded on a blue gradient based on their Probability.