Akoonu for Pipeline Reviews installs as a Managed Package from the Salesforce AppExchange here.
Pre-requisites
Akoonu for Pipeline Reviews works in any Salesforce org that is the Professional, Enterprise or higher edition. The only pre-requisite to install the package is that Opportunity Field History is enabled. When installing, please select "Install for Admins Only". Users are granted access to the app through permission set assignments after installation.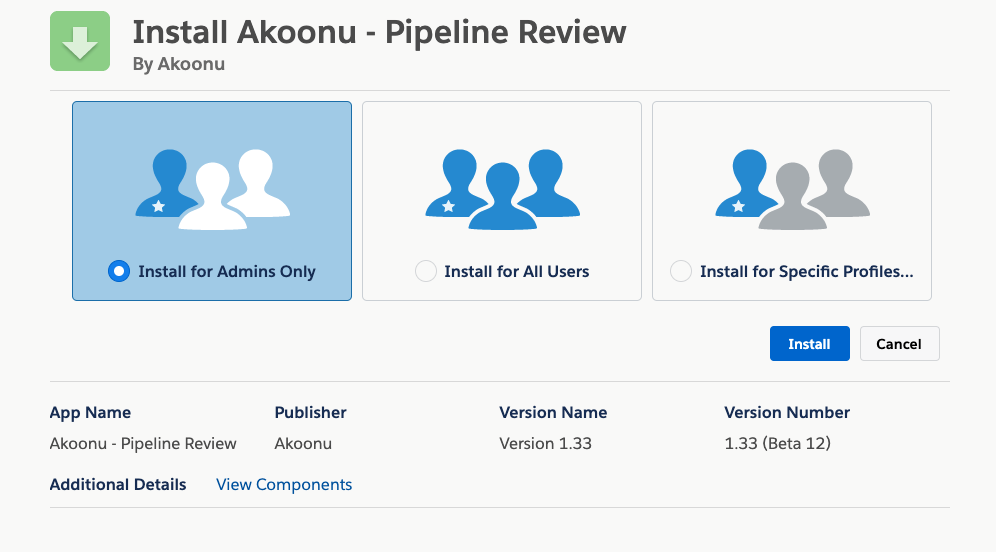 Post Installation
Akoonu for Pipeline Reviews is ready to use out of the box. The package includes two tabs.
Find the "Pipeline Reviews" tab to see your pipeline in the Akoonu for Pipeline Reviews app. You can explore the views and features without additional setup. There are two versions of this tab, "Pipeline Reviews" for use in the Lightning Experience (preferred), and "Pipeline Reviews (classic)" for use in the legacy Classic UI.
Find the "Akoonu Setup" tab when you are ready to explore all the ways that you can configure and setup Akoonu for Pipeline Reviews to meet the needs of your team, process and Salesforce setup.
Upgrades
New versions of the package can be installed over previous versions. If changes are required to use new features, post-installation instructions will be provided in the Akoonu Setup interface, and Release Notes.
In rare cases, push upgrades will be performed to ensure that all users have access to required updates and critical bug fixes.